Email Marketing: Repeat Your Call to Action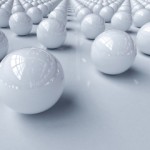 Your audience is unlikely to read your marketing emails as closely as you do so it's possible for them to overlook certain parts of your email. For that reason, it's typically a good idea to repeat the most important part of your message, the call to action.
Repetition in a slightly different way avoids monotony and hedges your bets in highlighting the call to action in a way that suits individual audience preferences. There are three primary ways to highlight your call to action in an email.
Text Link – This is the simplest way and should always be included as it will always be displayed whether images are displayed or not.
Image – An image that represents the call to action can be used to highlight the call to action. This is especially effective if the call to action is recurring so that the image can become the brand for that call to action.
Button – A button can be text with formatting or an image. In either case, some users defer to using a button or readily identify it as a call to action. This can make it an ideal option to highlight the call to action.
Using two or all three of these throughout your email is a good way to provide several opportunities for a click. It's especially helpful if they appear toward the top and bottom of your layout so that even those that simply scan the email, stand a good chance of being drawn to the call to action.
Image courtesy of  Supertrooper / FreeDigitalPhotos.net