Email Mobile Layout – Columns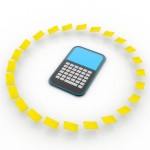 There have been a multitude of article written lately promoting a single column layout that is a max width of 400 pixels. The idea being that the simple layout will display well on mobile devices. And while that is certainly true, it's also true that most of the people promoting this best practice have many samples of emails with multiple columns. So what gives, aren't they violating their own best practice?
The answer is that simple best practice rules don't work in a lot of cases and multi-column formats can display well for mobile.
If you want a more universal best practice, it would be to not have a column width larger than 400 pixels (300 is ideal). Overall width should not be larger than 600 pixels total. Why? Because columns or layouts larger than that will require scrolling left and right to read the column on some devices. Keeping columns to a set width ensures that your email will be easy to navigate and read on mobile devices but doesn't make layouts so restrictive as to not set the email up in the most appealing way.
Image courtesy of jscreationzs / FreeDigitalPhotos.net