Useful Marketing Surveys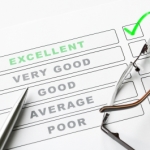 If a survey is leveraged as a marketing tool, what makes the survey useful? In short, quantifiable data that can be used to glean insightful deductions.
Many trainers, consultants, or professional coaches that decide to do a survey spend little time thinking through how they will compile and leverage the responses. All too often, a survey is thrown together with open ended or vague questions that make quantifying the data difficult.
Generally speaking, the best way of compiling quantifiable data is by using a ranking system or yes/no answers. This standardizes responses into quantifiable metrics that you can use to make industry insights or event/presentation customizations. Then make your questions very specific. Make sure each question has a single inquiry that responders can easily understand and clearly choose their preference.
Open ended or input questions are often worthless to use as a marketing tool. While it lets a responder voice their views in a very custom and personal way, it's difficult to extract usable data from those responses. Typically the only use for open ended responses is as quotes but it can be challenging to get responders to consent to use their survey response in a public manner.
If you decide to use a survey as a marketing tool, make sure that the effort will result in usable data. Map out what the results will look like and have a plan for compiling that data into actionable statistics.
Image courtesy of tiramisustudio / FreeDigitalPhotos.net