Call to Action: Easy to Purchase Product/Service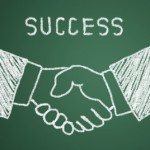 A lower cost item can serve as a bridge between marketing and sales as it makes the initial sale easier. This is especially true for trainers, consultants, and professional coaches who typically have services that cost tens of thousands of dollars.  Finding a lower cost introductory product or service can highlight expertise and pave the way for larger engagements.
A book or in depth industry analysis are great products that can be offered at a fairly nominal cost.  The difference between these items and download reports is that they offer detailed reporting and are likely to take significant effort to create.  The cost is justified given the wealth of data or information provided. They serve the purpose of engaging with an interested party but are prime credibility builders.  The have the added advantage of being authored on your topic of expertise so any issues that the reader identifies with, you become the obvious expert to solve them.
An assessment and report process can be a service version of a book or industry analysis.  Many times a marketing audience won't be ready to buy a full service from a trainer, consultant, or professional coach but know that they could benefit from their service.  Offering an introductory assessment and personalized report can be a lower cost way of helping potential buyers see the value you can bring to their specific issues.  An example might be a personality profile for a manager.  The trainer, consultant, or professional coach could compare that manager's profile to stated objectives or success benchmarks to identify strengths and weaknesses. It highlights how the manager could improve and leads nicely into training or development programs to maximize potential.
Spend some time identifying a lower priced product or service as an introduction.  It's something that marketing communications can often sell directly and serves as a way of starting the sales process with interested parties.
Image courtesy of samarttiw, / FreeDigitalPhotos.net