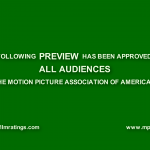 I love movie trailers.  I will seek out the trailer for movies I am interested in and take in about any trailer that comes across my path.  I will actually get irritated if I am not in my seat at a theater when the trailers start.  But why seek out or get irritated about missing something that amounts to a short commercial for a movie I may or may not be interested in?  There are two primary reasons, one it's an exciting sample of a larger offering, and two it provides a quick overview of something I might want to know more about.
Successful social media and email marketing campaigns provide the same two incentives.
Engaging Sample – What you email or post to social media should be your A material.  When's the last time you saw a trailer with long developmental pieces of dialogue?  Never, because they want to show the most exciting or engaging parts of the movie to provide incentive to see it.  Many consultants, trainers, and professional coaches hold back their best information for fear that if they use it for marketing their audience will "figure out" what they do/teach and never pay for it. That won't happen, at least not with people that are truly motivated to buy.  No one feels like they saw a movie because they took in the trailer. Make sure to provide samples of your most powerful metrics, insights, and tactics.
Content Summary – Providing quality content in your social media and email marketing is a draw for people that happen across it.  Those people are unlikely to organically take an interest in your products or services because they have not had a reason to look or think it doesn't apply to them.  However, if they encounter something insightful that is easy to take in, they will pay attention.  Many times I've never heard of a movie or assume it's not something I'm interested in. But if I see the trailer of that movie and it has engaging content, it can alter my perspective.  Your social media and email marketing has the same potential.  If you are providing quality information that grabs someone then they are likely to look further into it and be more receptive to future marketing communications.
Use social media and email marketing like a trailer.  Keep it short but powerful and remember to always provide a next step.  A trailer without a release date letting you know when the movie premiers might get interest but will also breed frustration on when the movie can be seen.  Always provide a next step to more information or a call to action so that the people that like your trailer know where they can see the movie.